There are many different kinds of chairs... from hard, wood, ladder-back chairs to soft, fluffy, over-stuffed ones.
Quote


"A house that does not have one worn, comfy chair in it is soulless."
-- May Sarton
The prototypical chair has a seat supported by four legs and a back. But not all chairs have legs; some have arms (arm supports). Some can adjust or move (recliners or rocking chairs).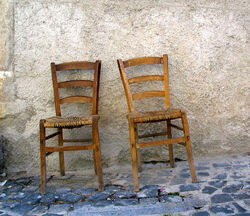 Chairs can be formal, comfortable, sturdy or colorful. They can add to a room or outside living area, making it more functional or contributing to a certain appearance.
Considerations
Edit
Chairs need to be at a certain height for some tasks. When chairs are the wrong height for a table used for meals, it is less comfortable and can also lead to more spills. The wrong kind of chair for a work environment or home office can lead to bad posture and then to soreness or injuries, such as carpel tunnel syndrome.
References
Edit
Community content is available under
CC-BY-SA
unless otherwise noted.