Cake decorating is part of some bakers' professional skills. It can be the basis of a business run out of a home, or it can be a hobby.
Cakes are commonly decorated for special occasions, parties, events or to accompany a special meal. Some people enjoy decorating cakes as a creative outlet and way to make a meal or dessert feel like something out of the ordinary.
Cake designs vary from simple to complex. Some cakes are single layer cakes and others are multi-tiered cakes. Shaped cakes, also called cut up cakes or cut out cakes, are often easy to create and make a celebration unique. Complex, three-dimensional cakes are popular by many bakers. Some television shows show bakers competing to create complex, large, multi-tiered three dimensional cakes.
Decorations can vary from simple icing to amazing recreations of objects, like castles. Often, items from your local supermarket can be used to creatively decorate cakes. Like any skill, some people are better at it than others and can turn their ability into a way to make some extra money or even to earn a living.
While some decorations, like candles, are meant to be removed before eating, most cake decoration is edible. Frosting can be used to decorate. Another related hobby is making crystallized flowers.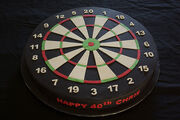 Community content is available under
CC-BY-SA
unless otherwise noted.