Bookshelves are, not surprisingly, shelves for books. They provide storage for books as well a display setting for objects. Like other good forms of storage, bookshelves can also help organize the books. Unlike many other forms of storage, bookshelves tend to be open allowing the user to see and access the books.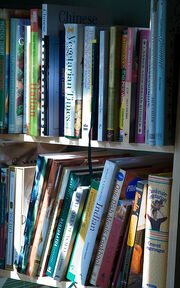 Considerations
Edit
Some things to consider when evaluating bookshelves are
shelf adjustability (Some bookshelves allow you to raise and lower individual shelves, adjusting the distance between them, and the height of books or items that can be placed on them.)
protection of the books (from dampness, humidity)
accessibility and visibility of the books
other uses (bookshelves can also be used as displace cases or for other storage)
tilt -- some bookshelves are tilted to make access easier, especially the lower ones
doors
number of shelves
weight the bookshelves can support
is the base adjustable for slightly uneven floors or is there a wall anchor - anti-tilt features
freestanding, attached to the wall or built in
height or space between shelves
some bookshelves are collapsable or foldable, making them easier to store between uses or to move
some bookshelves are modular -- they can be combined for more book space or with other related modules such as drawers for other storage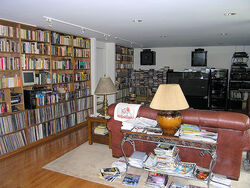 References
Edit
Popular Mechanics on How To Build A Bookcase by Rosario Capotosto Illustrations by George Retseck Published in the May 2000 issue.
Community content is available under
CC-BY-SA
unless otherwise noted.