A bookcase is a piece of furniture that holds and stores books. Some bookcases are basically free standing bookshelves. Most bookcases have sides, a top, a bottom and a back with shelves inside that framework. There are some bookshelves that have an unusual shape and they may have bars instead of solid sides and backs, etc. as part of their design. Some are enclosed with doors, especially glass doors, to provide extra protection for the shelves.

Although the original purpose of a bookcase was probably to hold books, not only can it hold books, it can store DVDs and CDs. Sometimes a bookcase can make a good display case too.
Materials
Edit
Bookcases can be made of many different materials. Wood is a common material. Metal and plastic are used.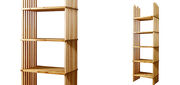 To clean the bookcase, just pull over tights around the hoover (vacuum cleaner) and start to gently clean. Another method is to use a duster -- a feather duster or dust rag. You can do a quick dusting of the exposed areas, that is the back of books and exposed shelves, or occasionally, you may want to go through and remove the books, dust the shelves and the books separately.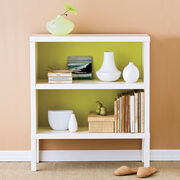 A bookcase may have a bracket or something attaching it to the wall and keeping it from falling over in case of something like an earthquake.
External links
Edit
Community content is available under
CC-BY-SA
unless otherwise noted.