Window blinds are one way to adjust the amount of light and heat coming in the window as well as providing residents some privacy.
Blinds come in different styles. Most, older blinds have slats running horizontally and several inches wide. Newer blinds come in a wider variety of colors, some hang vertically. Others are horizontal, but much thinner than the older styles or with fabric between the slats. With traditional blinds, you can adjust the amount of light by changing the angle of the slats or by raising and lowering them (or moving them to the side with vertical blinds). The blinds that have covering fabric act more like shades; they don't have the angle adjustment, but are just raised and lowered.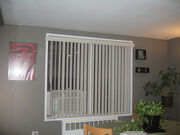 Blinds can be made of a variety of different materials. The slats can be made of aluminum, wood, plastic, bamboo, seagrass and other plant fibers. The cords connecting them can be made of different kinds of rope or string.
Slatted blinds can get dusty, or if they're in the kitchen, greasy. Because of the multiple surfaces instead of one continuous surface, they can be difficult to clean. (See various cleaning methods in the external links.)
Some plastic or vinyl blinds may have led content. Testing kits can be found at local hardware stores.
See cord safety for a potentially serious danger for children and pets.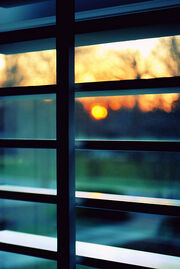 Community content is available under
CC-BY-SA
unless otherwise noted.