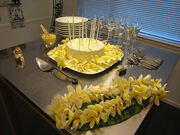 Part of what makes a residence a home is the events that occur and the life celebrations that take place there.
Birthday parties are one of those celebrations.
Birthday parties can be a surprise to the honoree. They can be themed.
Some common components of a child's birthday party are treats, presents and organized games. The treats often include cakes or cupcakes. One tradition is to have candles on the cake -- in a child's case one candle for every year and one for luck or "to grow on". So, a nine year old would have ten candles on his or her cake. Sometimes a simple meal is part of the party. In the U.S. hot dogs and hamburgers with fries or finger food vegetables like carrot, celery, broccoli sticks, fruit like grapes or strawberries. Then cake and ice cream for dessert.
At a child's party, gifts are often a key element. The guests bring gifts for the birthday girl or boy. There may also be prizes for those who win at the various games. And gifts, keepsakes or party favors for each guest are common (at least in the U.S.). In the invitation and wrapping paper section of many stores, they will also have inexpensive sets of toys for this purpose.
For an adult's birthday party, the entertainment is probably different, and dinner may be different. Any party meal would do.
External links
Edit
Community content is available under
CC-BY-SA
unless otherwise noted.