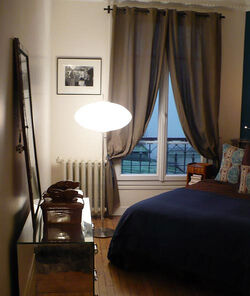 Bedrooms are often private rooms for sleeping, relaxing, dressing, physical relationships between couples. A bedroom can be a retreat for adults or children. (Although depending on whose bedroom it is, the type of retreat will be very different.)
To support the activities of sleep, meditation, relaxing and rest, it is useful to decorate bedroom with restful, soft colors and patterns. It is helpful to remove reminders of stressful activities, such as work or bills. People have different preferences—focussing on cozy, warm, simple, peaceful, or other favorite themes.
Common furniture and furnishings include beds, night stands and storage for clothing (dresser, chest, wardrobe, etc.). Other items that may be useful are alarm clocks, reading materials, music or sound machines, fan, water cup, lamp(s). And to add a personal touch, you might want pictures of family or favorite activities, or posters of heroes, bands or other people, places and things you like. Other furniture may include a chair, desk, lounge or place to store toys, such as a toy box.
To create a comfortable bedroom, consider your other senses too. Use candles, incense, potpourri or other scent. Lavender is often considered a relaxing smell. Touch, such as soft sheets or warm blankets, can also make a bedroom more comfortable and relaxing.
References
Edit
Community content is available under
CC-BY-SA
unless otherwise noted.