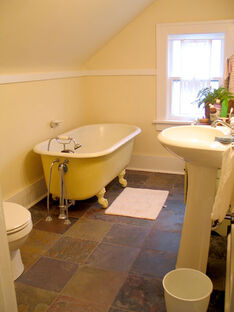 Bathtubs provide a way for people to clean or submerse themselves in water and relax.
Tubs come in a basic water holding shapes, usually hollow rectangular or long ovals with the top side open. However, they can have many different styles.
clawfoot
baby's bath
walk-in bath
soaking tub
Hint: Use the water that comes through the pipes while you're waiting for the hot water to water plants or for other cleaning.
Considerations
[
]
size - It's nice to have a tub long enough that you can stretch out in it. A deeper tub (or higher rim) will allow the bather more water coverage. A rim that's higher may be more difficult for people with mobility issues. Some tubs have a door, so the bather can walk in and out of the tub without stepping over the rim.
accessibility - Does the bathtub have a handrail or other feature that makes getting in and out safer?
Safety
[
]
The combination of smooth floors and tub bottoms with dampness and soaps or bath oils can create a dangerous situations. Slip and fall accidents are a serious risk. This risk can be reduced in multiple ways. A bath mat or rubber bath appliques can keep the bottom of the tub from being as slippery.
A walk-in tub provides a safer option for someone with health or balance problems that might make stepping into or out of a tub hazardous. Another way to make a tub more "accessible" or safer is to install handrails.
Related
[
]
References
[
]
Commercial links: