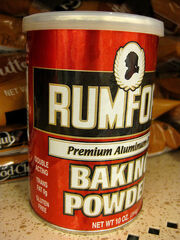 Baking powder is a leavening ingredient, a staple in many kitchens.
Baking powder includes baking soda and other ingredients. Baking soda is a base. Baking powder also includes an acid, usually cream of tartar (sometimes sodium aluminum sulfate), and a filler, usually corn starch. The "filler" may also help keep the baking powder good for longer by absorbing small amounts of liquid or humidity so the chemical reaction doesn't begin. A single action baking powder reacts to getting wet by producing carbon dioxide bubbles, which cause the dough to rise. A double acting baking powder also reacts to the head of baking.
Too much baking powder can make a recipe taste bitter. The baking soda or other ingredients can balance the baking powder and keep it from being bitter.
Substitution or replacement ingredients
Edit
If you're out of baking powder, you can substitute
1 teaspoon double-acting baking powder =
1/4 teaspoon baking soda plus 1/2 teaspoon cream of tartar plus 1/4 teaspoon cornstarch
1 1/2 teaspoons single-action baking powder
1/4 teaspoon baking soda plus 1/2 cup (120 ml) buttermilk, sour milk or yogurt to replace 1/2 cup (120 ml) non-acidic liquid [1]
1/4 teaspoon baking soda plus 1/3 teaspoon cream of tartar
1/4 teaspoon baking soda plus 1/2 cup buttermilk or yogurt in liquid mixtures only; reduce liquid in recipe by 1/2 cup [2]
1 teaspoon single-acting baking powder =
2/3 teaspoon double-acting baking powder
1/4 teaspoon baking soda plus 1/2 teaspoon cream of tartar plus 1/4 teaspoon cornstarch[3]
External links
Edit
↑ Joy of Baking.com's [http://www.joyofbaking.com/IngredientSubstitution.html Baking Ingredient Substitution Table]
↑ Dummies.com's Recipe Substitutions for Cooking Emergencies
↑ Joy of Baking.com's [http://www.joyofbaking.com/IngredientSubstitution.html Baking Ingredient Substitution Table]
Baking Ingredient Substitution Table]