Air conditioning cools and dehumidifies the air. This can make a home more comfortable during hot or humid weather.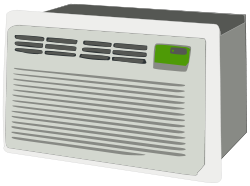 Air conditioning can be "central" (running through built in ducts and vents), window units or wall units.
The use of a ceiling fan in conjunction with air conditioning can increase energy efficiency.
Alternatives
Edit
There are other techniques to make a home more comfortable when it's hot and humid. One is to blow air over a block of ice. (more...)
Air conditioners can be harmed by turning them on when it's already cool (below 70 degrees Fahrenheit).
Air conditioning is abbreviated "A.C.", as usual.
Heating, ventilation and air conditioning (H.I.V.A.A.C.: Heating, ventilation and air conditoning)
References
Edit
External Links
Edit
Brands

Lennox A.C..s (Air conditoners)